Keeping you healthy is our life's work.
Food is to be enjoyed, and summer is the season for bright, bold and refreshing flavors. Now you can put ideas into action with great-tasting, easy meals from some of the most talented and creative food bloggers. To make our shortlist, these recipes had to be as delicious as they were healthy.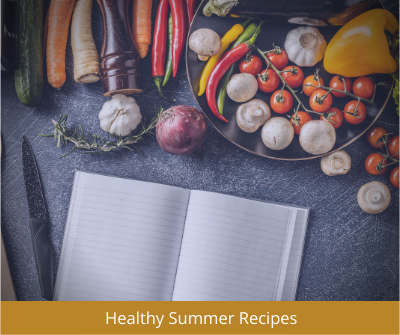 How to work fruits and vegetables into every summer meal
Breakfast: Very Berry Fruit Salad Lunch: Watermelon and Cucumber Salad Dinner: Summer vegetables with chicken sausage
 
Make easy alternatives to processed food
Busy with summer activities, the temptation to grab convenient foods is understandable. Make a few batches of baked tortilla chips instead. It's a low-salt recipe (one TSP), but you can reduce sodium even more if you want. The paprika, pepper and cumin will easily make up for it.
 
Enjoy healthy grains
Offering lean, healthy proteins and beneficial fats, fish like salmon and tuna also contain Omega 3s that are essential for cell growth and circulation and are believed to play roles in heart disease prevention. Seasoned with only lemon juice, spices, and a little olive oil, these hugely-popular grilled salmon skewers from Natasha's Kitchen have become their own internet sensation.
 
Focus on healthy fats
Avocados, which contain healthy monounsaturated fats and a plethora of nutrients, also happen to be delicious, versatile, and filling when you've worked up an appetite. Try these Spicy Tuna Avocado Wraps and enjoy the added benefit of healthy fish, leafy greens, carrots, and whole wheat grains.
Our physician-led Golden Physicians Medical Group health care organization partners with urgent care, hospitals, labs, and radiology facilities to provide the optimum patient experience and quality of care. Become an integral part of our Golden network and experience the care you deserve.